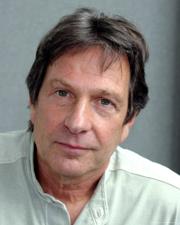 Michael Brandon
, born on April 20th, 1945 in Brooklyn, New York, is an American actor from dubbed over Michael Angelis in America from the
seventh
season to
sixteenth season
. He also re-narrated eight episodes from the
sixth season
.
He currently holds the record as the longest running narrator for the US and second overall after Michael Angelis.
Brandon has appeared in other television shows and movies such as "Dempsey and Makepeace", "The Nanny", "Dinotopia", "Are You Ready for Love?", "The Division", "Ally McBeal", "The Catherine Tate Show", "Murder She Wrote", "New Tricks", "Try This One for Size", and "Doctor Who". He appeared in "Captain America: The First Avenger" with Martin Sherman and William Hope.
He was first married to Lindsay Wagner. He later married "Dempsey and Makepeace" co-star Glynis Barber, best known for her role in "EastEnders".
Voices
US